With so many fire sprinkler systems available, you may be wondering which system is right for you. Choosing the correct sprinkler system requires the help of a fire protection professional who can assess your facility and design a system that addresses the needs and hazards of your application. Making sure you have the right type of sprinkler system can help protect your property, people and assets.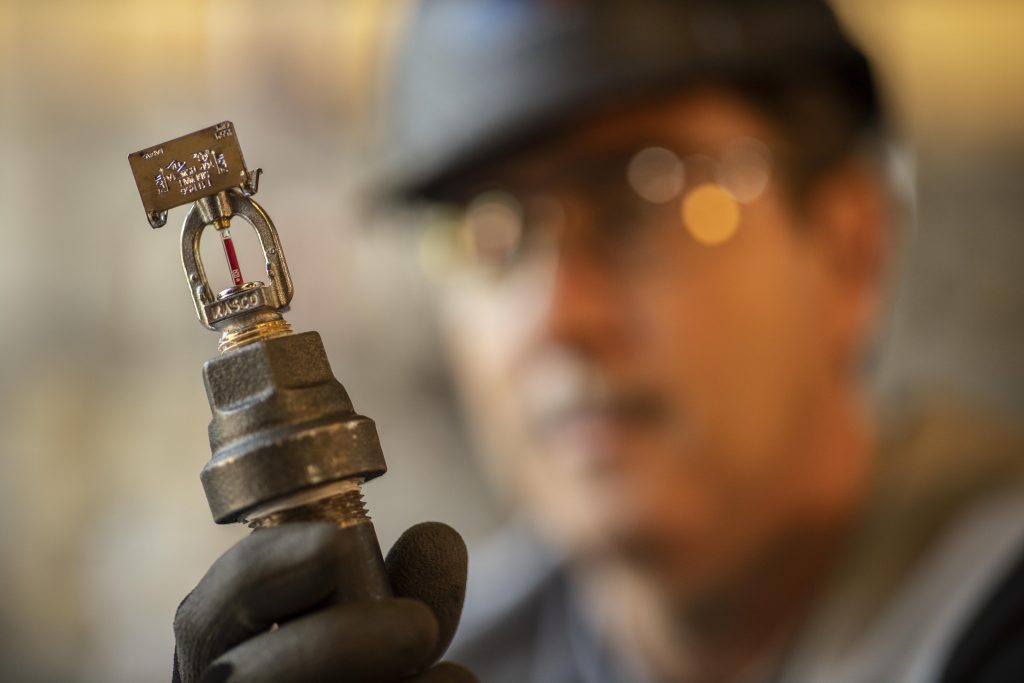 Common Types of Sprinkler Systems
Wet System Sprinklers – A wet pipe sprinkler system is the traditional form of fire sprinkler. This system is the most common form of fire protection because it is simple and effective at controlling a fire. In a wet system, the sprinkler pipes are filled with water and the sprinkler heads are closed. When a fire is detected, the sprinkler heads closest to the fire will discharge water onto the flames.
Dry System Fire Sprinklers – Dry pipe sprinkler systems are different than wet systems as they do not have water in the sprinkler pipes. Dry systems are found in cold applications where water in the sprinkler pipes has a potential to freeze. Unheated warehouses or freezers usually have dry sprinkler pipes to avoid pipe freeze ups and bursts.
Deluge Systems – Deluge sprinkler systems are used high hazard applications. In buildings where fires have the potential to cause catastrophic damage, deluge systems are installed because they create total flooding to quickly extinguish a fire. Deluge systems are a dry pipe system with all sprinkler heads open. When a fire is detected, the deluge valve releases all the water through the pipes and all the open sprinkler heads.
Pre-action Sprinklers – A pre-action sprinkler system is installed in areas where accidental activation needs to be avoided. Two steps are required for water to discharge. The sprinkler is a dry system so first the pipes need to be filled with water and then each individual head needs to be activated separately to allow water to be discharged.
Water Mist Systems – Water mist systems use very fine droplets of water to suppress a fire. These systems use less water than traditional sprinkler systems. Water mist systems are effective at putting out fires with minimal water damage.
Install a Fire Sprinkler System with W&M
W&M Fire Protection installs fire sprinkler systems. We can design and install wet and dry pipe sprinkler systems, deluge systems, pre-action sprinklers and water mist systems. We can assess the needs of your facility and determine which type of fire sprinkler system is the best for your application. Our systems are designed and installed in accordance with NFPA standards and local code. Whether you need a system for new construction or a retrofit project, we can get your building the fire protection it needs. We also provide inspections, testing and service for fire protection systems. If you are interested in fire sprinkler systems from W&M, contact us today!