When it comes to multi-story apartment buildings, it is important to put a lot of thought into fire protection systems. When buildings have multiple floors, it poses a larger challenge for safely exiting the building during a fire. Installing fire sprinkler and alarm systems in multistory or high rise apartments in NYC will help to stop a fire from spreading and allow occupants to safely exit the building.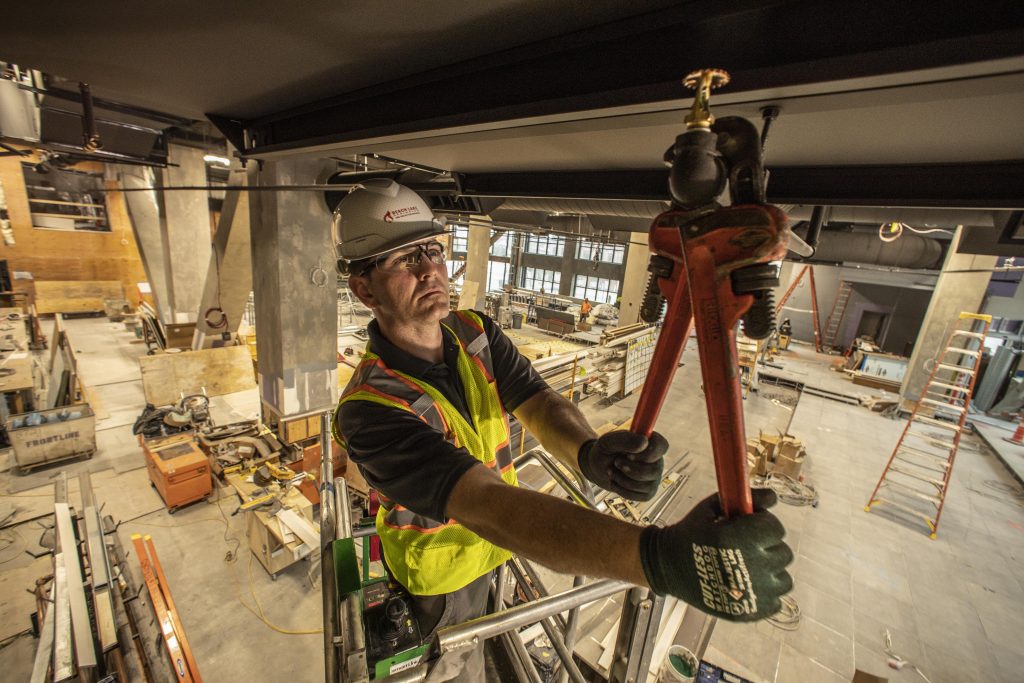 Which Fire Protection Systems and Measures are Needed?
In order to protect the residents of high rise or multistory apartment buildings in NYC, buildings should have fire protection systems and safety measures in place including:
Fire sprinkler systems – Sprinkler systems are one of the most effective ways to protect property and save lives. A fire sprinkler system can contain a fire at its point of origin, stopping the spread of the fire and saving the lives of the building occupants.
Fire extinguishers – Extinguishers should be present throughout the building to put out small fires before they become larger and more deadly.
Fire alarm and detection systems – Alarm and detection systems allow for early detection of a fire and alerting building occupants of the fire. Having an effective alarm system allows residents to quickly exit a building when there is a fire.
Voice communication – Installing a voice communication system in a multistory apartment building makes evacuation during an emergency a smoother process. Voice communication systems direct residents what to do and where to go in an emergency such as a fire to keep people safe.
Fire resistant stairwell – During a fire, residents should never use an elevator. The stairs must be used for people to safely evacuate the building. Fire resistant stairwells are so important because they resist fire, allowing occupants to safely use the stairs to exit.
Evacuation Plans – All multistory apartments should have an evacuation plan and all residents should know it well. Apartments should have fire drills, so residents know what to do during a fire.
Comply with Local Fire Protection Standards
NYC, local jurisdictions, and the NFPA have standards when it comes to fire protection that must be met. Multistory building owners should be working with a fire protection contractor to have their fire sprinkler, extinguisher and alarm systems inspected and tested as often as required by local code and NFPA standards. Neglecting to take care of your fire protection systems could leave you with a violation or worse – a non-functioning fire protection system that fails when you need it most. Regular inspections will keep your systems functional to protect lives and property.
Work with W&M for Fire Protection Systems & Inspections in NYC
W&M Fire Protection designs, installs and services fire protection systems for multistory apartment buildings in NYC. We understand the importance of protecting the lives of your residents and property which is why we provide fire sprinklers and alarm systems that are code compliant and fit the needs of your facility. The W&M team provides inspections in accordance with local standards to give you peace of mind that your systems are working as they should. Contact us to learn more.