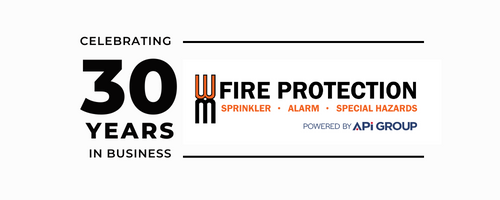 W&M Fire Protection is proud to be celebrating its 30th anniversary as a fire protection provider in 2023. While W&M Fire Protection was founded in 1993, our company has been around for over 100 years as a mechanical contractor. The founders of W&M Fire Protection were Emile H. Munier III and Sami C. Khoueiri.
In 2007, W&M Fire Protection became a division of Davis-Ulmer Fire Protection, a successful fire protection company serving New York and the Northeastern United States. Davis-Ulmer is a member of APi Group, Inc. international corporation focusing on providing life safety and specialty services.
Despite belonging to a larger organization, W&M fire protection still holds onto its family roots. Today, the grandson of the original founder of W&M Fire Protection is the Executive VP of our company.
Exceptional Fire & Life Safety Services
For the past 30 years, W&M has built our reputation in the tri-state area as an exceptional fire protection service provider. Looking into the future, we are focusing on providing inspections and service for fire protection systems as well as installing fire sprinkler and fire alarm systems. Our team of experts can help with the removal of violations from local authorities including the FDNY. We specialize in the service and repair of fire and life safety systems and have a 24-hour emergency team that is ready to respond, no matter the time of day, or night. W&M strives to build lasting relationships with our customers by becoming a trusted fire protection service provider. With a team of over 30 experienced and highly qualified technicians, we can meet all your fire protection service needs.
A Lively & Enjoyable Place to Work
One major factor in the success of W&M Fire Protection over the last 30 years is our unique company culture. We aim to make W&M a fun, active, and enjoyable place to work. Our company culture is reflected to both our coworkers and customers. We want W&M to be a place that people are excited to work for and look forward to working with. At W&M Fire Protection, we believe that everyone is a leader which is why we focus on helping all employees throughout our organization to grow professionally and personally by equipping them with the training and tools needed to succeed.
A Heartfelt Thank You
W&M Fire Protection would like to extend a heartfelt thank you to all our customers and employees that have led to our success over the past 30 years. As we celebrate this milestone, we wanted to say thank you because we realize that we would not be where we are today without you. We look forward to the next 30 years of growth and the opportunity to provide life safety services that keep your people and property safe.