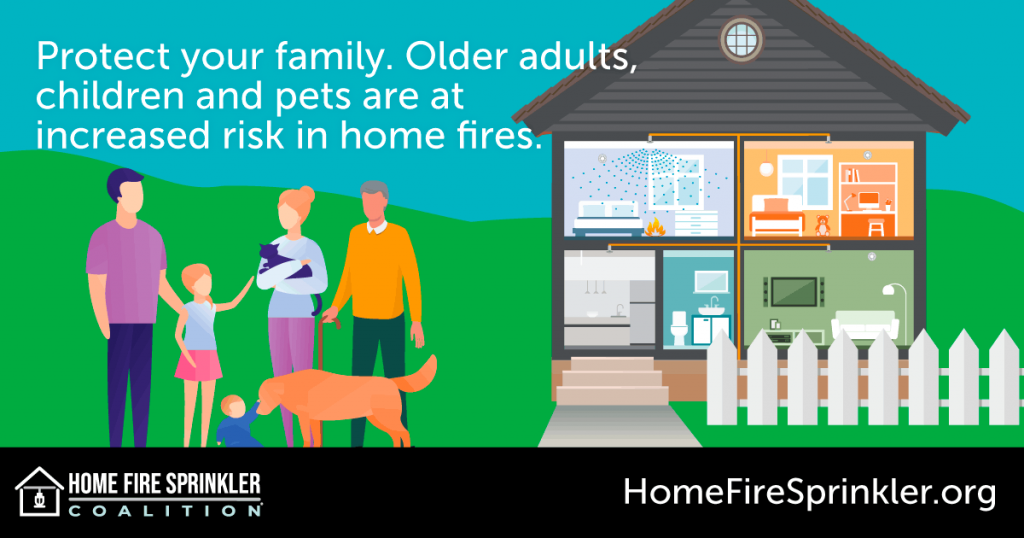 Hopefully you never encounter a house fire, but it pays to include security measures like fire sprinklers to keep your family safe. A fire can become deadly in as little as two minutes, not allowing much time between fire alarms going off and widespread flames! Time for evacuation can be limited, causing a severe safety hazard especially for the elderly, disabled, children, and pets that may need assistance.
Home fire sprinklers consist of many sprinkler heads all attached to a water source that is deployed individually to protect the area affected by fire. Each sprinkler head has a heat detecting activator that allows the head to open only when there is a fire in that area. This protects property from both fire and excessive water damage!
Protect what matters most with a home fire sprinkler system, the most reliable and cost effective measure to reduce or prevent the loss of life and property. May 19 – 25 is home fire sprinkler week, our goal is to promote fire safety in our community and across the country! Make your community a safer place to live and work by spreading awareness on fire sprinklers and the dangers they prevent for your family and local firefighters.
W&M Fire Protection 
W&M Fire Protection designs and installs residential fire sprinklers in New York City, Long Island, and Connecticut. Our team of experienced professionals can assess your home or residential building and provide a fire sprinkler system that will provide additional protection against the threat of fire to keep your family or residential building occupants safe.
Request a Quote today, with no obligation from W&M Fire Protection! Our fire sprinklers are a reliable and affordable addition to your home fire safety measures. We will provide you with design, installation and service throughout the lifetime of your fire protection system!